This continues the story of my life working as an Expat in Singapore in 2009…
The Family Visit
Not long into the new year my parents decided to come out for a visit, this meant a good opportunity to take a little time off, and show them around. The photos in this section are mainly taken by my parents while they were here. As there were issues at work I wasn't able to take time off for the whole of their visit sadly, but despite this we still had a good time and took a fair few pictures.
In order, Sentosa beach, Tanjong Pagar Malaysian Railway Station, Tony Roma's Ribs, The Penny Black in Boat Quay at night, Boat Quay by day, The Raffles Hotel, Singapore Flyer and F1 track, the Merlion.
They also got a quick tour of the office…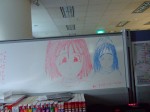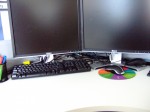 My desk area, the pictures go side by side as displayed on the page, although they don't line up as there's a gap between them. I was still drawing anime characters and having my own personal panel of white board was perfect for it.
They also went to see the bird park for a day…

The final image is of Clarke Quay, before we visited the Crazy Elephant.
Work, and Leaving the Company
I'm not going to give details of the issues at work, but after working in support for 2.5 years, and due to some other issues, I'd finally decided it was enough. My health was suffering from the level of stress, and well it was time to move on. In the IT world many places want you out fairly quickly, especially if you deal with customers directly or if you might be in contact with security related data, therefore I was quite lucky and didn't have to wait long from handing in the notice. For me I had done it, finally thrown in the towel, and I was wondering around City Hall area, and then this sudden overwhelming relief hit me, I suddenly felt free and finally all the stress just went in an instant. If only I had done that sooner, then I probably wouldn't have felt so ill before, sometimes you can hold on too long, when its better to just move on. Technical Support is not my thing, the technical side and the customer service side of it is fine – if it were that simple then I'd have stayed, the trouble with support is that by nature it soon becomes a numbers game, the company wants to measure everything, time for each ticket, number of tickets, customer satisfaction – all these sound good in practice, but what tends to happen is they then try to push the figures, you have to do more cases and do them faster and increase the satisfaction, this dosn't always work. If you go too fast, you make mistakes, if you take too many cases and then you get a problem that slows you down before you know it, you get behind on the others. Its a big balancing act, and as many will tell you, support is often a thankless job. I wanted to do something else.
Run for the border
A few days later I was invited back to the office, and we signed the papers and I packed up my things. My good friend Stephan decided to throw in a bit of humour, and gave me his "The Sims 3" bag to take my things back in. It also just happens to have a great big 'Bon Voyage' lettering on the side. It still cracks me up now thinking about it. The HR team however decided to cancel my Employment Pass and issue me a 5 day visa via the Immigration Board. The problem with this is that they were not going to pay my final salary until 5 days after my visa expires, the same pay which was going to pay for the relocation and flight back to the UK. When I complained about this, they just did nothing. I was therefore forced to make a day trip to Malaysia, doing this means you leave the country and therefore re-enter and in theory get a new visa. The problem however is that your not really supposed to enter either country without a ticket home, and therefore it was technically possible to be refused entry to both countries, and get stuck in the no-mans land between the two. I would hope and expect the embassy would assist in such matters, but I didn't exactly want to get to that point. Unfortunately I had run out of time, and had to make the trip, I was on the final day of the visa, and had to leave that day, so off I go. The trip started out ok, but it soon began to rain, and man did it rain, it was torrential, like buckets, there was water flooding everywhere. The MRT (metro system) was fine, but the bus was a bit more 'fun' in the heavy rain, especially as I didn't have an umbrella.
During my parent's visit, it also rained heavy, these were taken by them while they were here.
While leaving Singapore, the immigration officer stopped me and wanted to have a more detailed chat, no doubt wondering why I was making this trip on the very last day. I explained everything, and he explained the risk above, and said I can go, but that he cannot guarantee if I can get into Malaysia or even back into Singapore, but as it was the last day, he agreed I had no choice, and so off I went. As it turned out, I managed to find a computer fair, and spent the best part of the day wondering around that, still in the rain, before catching the bus back to the border. All day I had this lingering feeling in the back of my mind if there was going to be an issue getting back. The bus trip seemed to take forever, mainly because the rain meant more traffic, and so a huge queue for the border. The actual border part went without any issue, I asked if I could have time so I could try to find new work, and the in-bound officer gave me the full 90 days visa without any problem, I then carried on my trip back to my apartment. In the relief of getting back in, I managed to forget the umbrella I had bought near the computer fair, it was when I got to the train that I remembered, and of course too late to go back for it, but given how well it had gone, it was a small price to pay. I now had 90 days to get everything sorted, and either find new work, or go back home. I started putting my CV out right away, and while waiting for news and do some interviews, I finally got myself a nice stress free holiday, with no work to worry about.